Everyone wants to look youthful and their best, but some of us are unwilling to go to the necessary extremes to achieve it. While other solutions exist, like fillers and threads, they don't necessarily address the makeup of the skin or the muscles underneath.
If putting off a facelift for as long as humanly possible sits high at the top of your list, then non-invasive treatments are likely to become your favorite go-to. Imagine firming and lifting the face with just a few strategically placed energy-delivering pads. Well, that idea is no longer a dream but rather a reality. Enter: Emface, the newest device from BTL Aesthetics. Think of Emface as Emscupt NEO for the face instead of the body.

While nothing can directly compare to the results of a facelift, Emface is able to work its magic and create a more lifted, smoother appearance with fewer wrinkles without the need for incisions, scars, stitches, or anesthesia. Whether you use it alone or as a complimentary procedure to other anti-aging and facial rejuvenating treatments and procedures, Emface is being called the great anti-aging solution of the 2020s that everyone needs, but nobody realized it could exist.

What Causes Facial Aging?
Facial aging is a multifactorial issue that affects multiple components of the face: bone, skin, tissue, fat, and muscle.
Within the skin, collagen, and elastin are lost, causing a deflated and saggy appearance. While RF energy is one of the go-tos for stimulating new collagen in the skin to firm and tightens it, it doesn't address the muscles or tissue, which is why a more comprehensive approach is often needed to intersect more severe aging.
With aging, the muscular structure of the face becomes weaker, and those muscles can't stand up in their normal position. This, combined with saggy skin, creates an aged look.
In the past, options to treat facial aging were limited, and while fillers, injectables, lasers, threads, and more all for their place in the anti-aging toolbox, they also come with certain limitations.
But not everyone is willing, able, or ready to have plastic surgery, which is the gold standard for addressing all the age-related changes to the face.
By the time most Americans hit their early 40s, about half of them have some initial signs of facial aging.
Emface is the first and only needle-free facial rejuvenating treatment that treats facial skin and underlying muscles in a 20-minute session.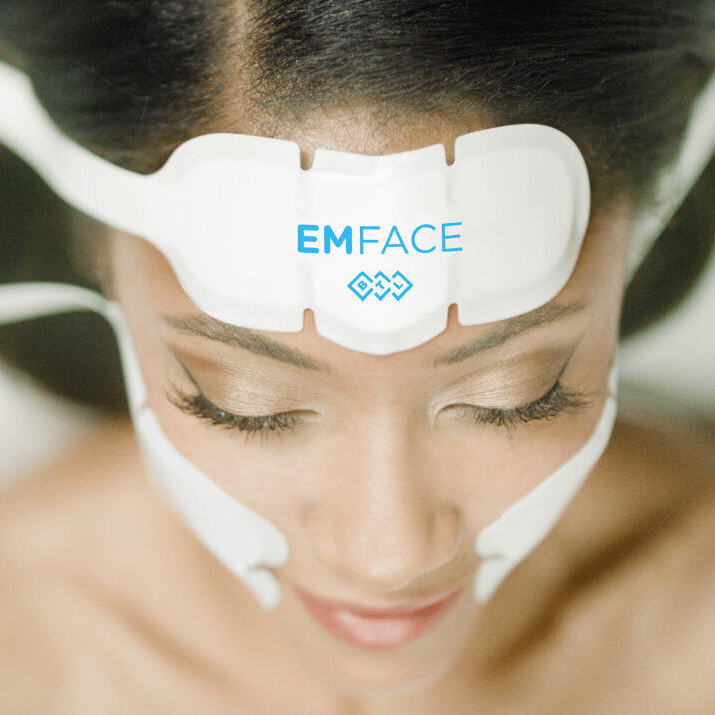 The revolutionary, non-invasive treatment utilizes a combination of synchronized RF and high-intensity electromagnetic stimulation (HIFES) energy to improve the skin and muscles for a lifted and refreshed appearance and fewer wrinkles. To date, Emface is the only treatment device that addresses a decrease in collagen and a loss of facial muscle tone.
The treatment, which was seven years in the making and is sometimes called a facial workout on steroids, is considered a combination therapy since it uses radiofrequency energy and HIFES to target the skin and facial muscles. Together, this unique technology tightens the skin and strengthens the underlying muscles for a result that's as close to what you can get with surgery but without any downtime, risks, or side effects. Instead, think of Emface as the most natural way to tackle the main components of an aging face.
Most patients begin to see the effects of the treatment around the 90-day mark, but they'll continue to improve for a few weeks after.
Emface is a unique facial improving treatment that employs two types of energies to lift the skin and muscles: Synchronized RF and HIFES.
Synchronized RF works to remodel and smooth the skin by sending heat down to the skin's deeper dermal layers, which causes an increase in collagen and elastin production. HIFES energy works differently and helps elevate the facial muscles and tissues by selectively contracting the muscles to improve their density and quality for a more lifted effect. A full-face lifting effect occurs by strengthening these muscles and can even extend as far down as the neck. But there's also a tightening of the cheeks and jawline and improved elevation in the eyebrows.
During an Emface treatment, about three small sticky pads are placed on the skin, which will transmit the energies to the face. Usually, one pad is placed on the forehead and one on each cheek. When the device is turned on, the pads will emit slight heat. At the same time, they vibrate and cause involuntary facial contractions similar to the feeling of a microcurrent facial but a bit more intense. Then, over 20 minutes, the RF energy will go to work to remodel the collagen and elastin, while the HIFES technology will cause muscle contractions so deep the average person couldn't make them on their own.
Whether you wish to treat the face as a whole or a specific area, your provider can do that. Some of the more popular individual areas to treat with Emface include:
The forehead

The eyebrows

The cheeks

The jawline
At least four treatments scheduled five to 10 days apart are recommended to reap the full benefits of Emface.
How Long Is an Emface Treatment?
The nice thing about Emface is that it doesn't cut into your day or eat up a lot of pre-treatment prep time. 
Instead, one treatment takes about 20 minutes from start to finish. All that's involved before the treatment is a quick skin prep where the treatment areas will be swiped with an antibacterial alcohol wipe so that the conductor pads can adhere to the skin properly. There's also a ground pad placed on your neck or back.
The treatment is timed on the machine, so there's no need to worry about over or undertreatment.
What Does an Emface Treatment Feel Like?
Most patients like that Emface isn't painful or uncomfortable and is often compared to a hot stone massage.
While you will feel deep muscle contractions, nothing is intolerable. And immediately after the treatment, you can resume your daily routine with no downtime or need to recover. 
While the treatment has a unique feeling, patients don't call it painful but rather a strange feeling or sensation. There's no numbing required, either.
You don't have to be in the throws of aging to reap the benefits of Emface.
So no matter if you are starting to see the initial signs of aging or have been bothered by a lack of lift for some time, Emface is suitable. Plus, it also works if you want to use Emface for more of a preventative approach. To say the Emface provides singular results isn't exactly fair.
While lifting is the primary goal of the treatment, Emface can also create more volume in the face and smooth out the appearance of fine lines and wrinkles. In addition, forced muscle contractions give a more lifted and rested appearance, and the skin emerges tighter and smoother.
Most patients choose Emface for its full-face lifting capabilities. However, it can also be used to hone in on hoisting up specific features like the eyebrows and cheekbones, making them appear more defined, prominent, and lifted. By improving the position of the brows and cheeks, the face appears younger and more elevated with an improved definition along these features and jawline and chin. That's because the treatment gives added support to the SMAS layer, which is typically addressed in a surgical facelift.
The additional benefits of Emface include the following:
Skin improvement

Reduction in wrinkles and fine lines

Increased collagen and elastin levels

Improved volume

A more lifted appearance
How Soon Will I See the Results from Emface?
The results from Emface aren't immediate, although some patients say they notice a more lifted and tighter appearance sooner than others.
While you may begin to feel more tightness and lift in the area, it typically takes 90 days for the results to be seen.
What is The Cost of Emface?
An Emface treatment varies in cost from provider to provider, and those in large cities often charge more.
In addition, the number of sessions needed to obtain your desired results will also influence the overall cost.
To determine the cost of your Emface treatment, call our office to schedule a consultation, where we will put a custom program together to correct your current concerns.
No! It feels warm on the skin with a bit of a strange vibration sensation, but there is no pain involved at all.
Will I still need to do injectables and fillers?
Having injectables does not prevent you from receiving EMFACE or vice versa, but you'll want to ensure you stay within each treatment. Ideally, you'll need to wait at least two weeks after receiving any filler or injectable before doing an Emface treatment. Currently, studies are in the works to determine precisely how, if at all, Emface can affect the efficacy of injectables.
Is Emface anything like Botox?
No. Emface and Botox are two entirely different treatments. Botox uses a neuromodulator to stop muscle movement, while Emface uses HIFES technology to cause muscle contractions to create lift. While both treatments can help smooth the skin and lessen the look of wrinkles, Botox relies on injecting the product via a needle, whereas Emface is completely needle free.
How many treatments will I need?
You'll need to undergo at least four 20-minute sessions between five and ten days apart to reap the benefits.

Download our exclusive Charette Cosmetics Services & Pricing Guide and learn more about our service menu and treatment costs.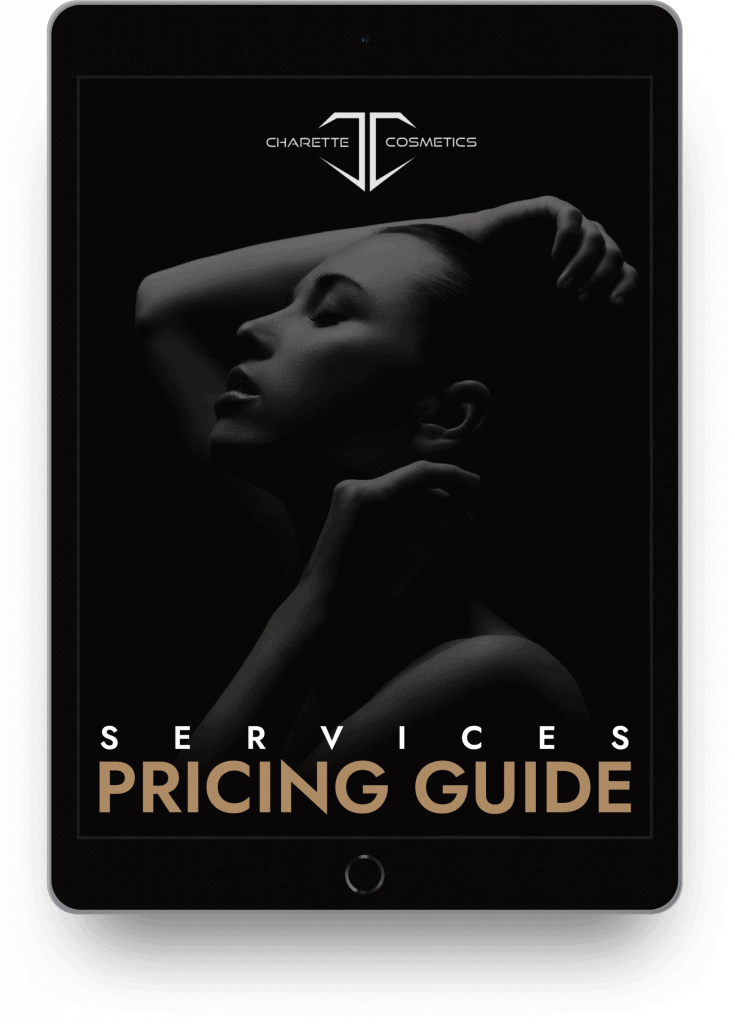 GET STARTED WITH
CHARETTE COSMETICS
If you're ready for a lifted, tighter, and younger-looking face, now is the time to book a consultation with Charette Cosmetics. A one-on-one consultation with our experienced aestheticians will determine the best Emface treatment for you. We can also customize an Emface package specific to your needs so that you can obtain the best results possible.
Fill out the form to schedule a consultation, or click the button below to book your appointment today!
We are here to help, feel free to contact us!