Celebrity Laser Treatment
When it comes to healthy skin, gentle heat is actually your skin's friend. Plenty of age-rejuvenating and skin-perfecting treatments make use of heat to stimulate collagen, improve the skin's tone and texture, and diminish the signs of aging.
While the Celebrity Laser Treatment is so much more than your typical facial and is considered a game changer for your complexion.
WHAT IS A
CELEBRITY LASER TREATMENT?
The Celebrity Laser Treatment uses the Laser Genesis machine for a specialized facial that relies on a laser to gently and safely heat the skin to stimulate collagen production and new skin cells. This imparts a healthy, youthful glow.
Unlike other ablative lasers, Laser Genesis is non-invasive and non-ablative meaning there's no recovery or downtime. The quick procedure can improve the skin's texture and tone and reduce the appearance of common signs of aging, like wrinkles and fine lines and dark spots. It also helps with scarring, large pores, and redness and can even improve the appearance of broken blood vessels.
By heating the dermis, which is a deep layer of skin, collagen production occurs. When there is fresh, new collagen in the skin, it looks plumper, younger, and healthier with fewer visible signs of aging like wrinkles and fine lines.
The laser's heat also causes blood vessels to constrict which improves redness and even rosacea.
The treatment is effective on all skin tones and types that want to improve the appearance of their skin.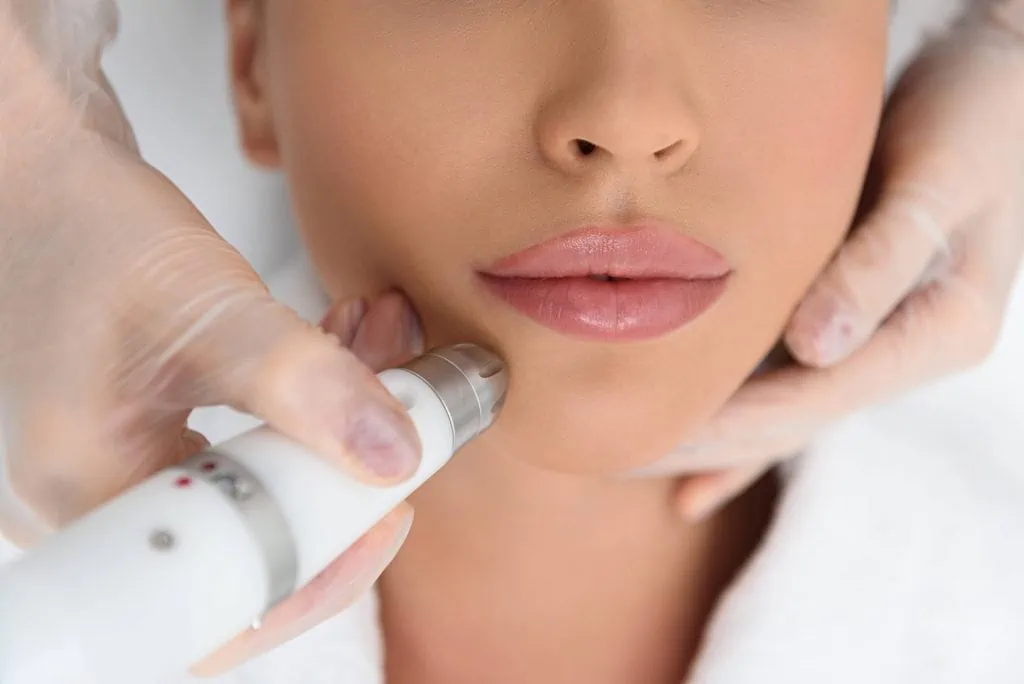 There are numerous benefits to the Celebrity Laser Treatment. Some of the more popular reasons why clients love this treatment include:
Less redness in the skin
Diminishes the look of fine lines and wrinkles
Improves skin tone and texture
Creates tighter skin
Improves acne
Hydrates the skin
Corrects pigmentation
For the best results, a series of treatments are recommended over three to six months.
HOW MUCH IS A CELEBRITY LASER TREATMENT?
A Celebrity Laser Treatment varies in cost from provider to provider, and those in large cities often charge more. Any add-ons and the number of sessions needed to obtain your desired results also influence the overall cost.
To determine the cost of your Celebrity Laser Treatment, call our office to schedule a consultation where we will put a custom program together to correct your current skin concerns.
How long does a treatment take?
One session takes 30 minutes–it's fast enough to do on your lunch break. There's no downtime or recovery so you can resume your daily routine immediately afterward.
What areas can be treated?
The Celebrity Laser Facial works on a variety of different areas, like:
The neck
The shoulders
The decollete
The hands
Are there any side effects?
No, there are no side effects with the Celebrity Laser Facial. Instead, the skin emerges healthy, refreshed, and nourished immediately after the treatment–and the results will continue to improve with time. There may be some minor redness after the treatment but it should subside quickly.
How often do I need to get it done?
For the best results, you'll need one treatment every year after the initial sessions.
Download our exclusive Charette Cosmetics Acne Ultimate Guide and learn more about our Charette Skin products & Charette Cosmetics treatments formulated specifically for acne
GET STARTED WITH
CHARETTE COSMETICS
If you're ready to rejuvenate your skin and make it glow and look healthier, now is the time to book a consultation with Charette Cosmetics. A one-on-one consultation with our experienced aestheticians will determine the best facial treatment for you. We can also customize a package specific to your skincare needs so that you can obtain the best results possible.
Fill out the form to schedule a consultation or click the button below to book your Celebrity Laser Treatment appointment today!
We are here to help, feel free to contact us!