Facials have been a long-standing staple in aesthetics and medical-grade skincare. But the standard facial has gotten a major makeover, and today's skin-rejuvenating and pore-purging treatments go beyond basic exfoliation and extractions. Here we introduce DiamondGlow Facial treatments.
The DiamondGlow Facial infuses the skin with next-level wet facial resurfacing for a deep-down cleanse and rejuvenated skin that glows.

What is a
DiamondGlow Facial?
The DiamondGlow Facial is a general dermabrasion treatment that safely and gently removes the uppermost layer of skin to deliver topical supercharged serums into the skin.
Without dead skin cells on the surface, which can clog the pores, these serums penetrate better and quicker for more dramatic effects on the appearance of the skin and its health.
Most wet facial treatments use chemical exfoliation at the surface to remove dead skin.
The DiamondGlow Facial features a patented recessed diamond tip wand that delivers a next-level resurfacing treatment to deeply clean and rejuvenate the skin.
Special precision diamond tips are used on the end of the DiamondGlow to reveal new, fresh skin while deeply cleansing the pores, extracting impurities, and infusing specialized SkinMedica Pro-Infusion Serums into the skin. Each serum used is sulfate/sulfite-free, paraben-free, and fragrance-free.
The unique DiamondGlow wand also provides unparalleled results.
The wand features an innovative 3×1 technology that allows simultaneous exfoliation, extractions, and infusions using the SkinMedica Pro-Infusion Serums. The skin is most receptive to receiving the serums when the pores are clean and open.
DiamondGlow reveals softer, smoother, more luminous skin that's clear, healthy, and even in tone.
Treated skin emerges glow and lit-from-within.
The Benefits of a
DiamondGlow Facial
The DiamondGlow Facial can be customized to treat your skin concerns and skin type, so the benefits are plentiful and not limited to just one area. The treatment works to:
Exfoliate dead skin from the surface to reveal fresh, renewed skin
Extract impurities and debris from the pores
Deeply cleanse the skin
Nourish the skin with one of several different SkinMedica Pro-Infusion Serums
Customizing the DiamondGlow Facial allows you and your provider to select the serum that will benefit your skin most.
Ideal for more mature skin, this serum targets coarse wrinkles, fine lines, and sagging skin while improving the skin's tone and texture.
For discoloration and stubborn pigmentation, this serum will help improve the appearance of uneven pigmentation while brightening the skin with patented Lumixyl ® peptides.
Dry skin receives a dose of much-needed moisture with an infusion of hyaluronic acid to hydrate and smoothest the skin.
Antioxidant-rich vitamin C helps rejuvenate and protect skin.
Ideal for congested skin that breaks out, this option promotes clearer skin and addresses imperfections.
But that's not the only thing you can tailor to your skin's needs. Your provider can also choose from six different precision diamond tips to create a targeted skin treatment to develop and maintain your glow.
Each tip is designed for maximum efficacy and exfoliates different skin types based on concern.
How Much Does a DiamondGlow Facial Cost?
To determine the cost of a DiamondGlow treatment, we recommend a quick consultation.
Our providers can discuss the treatment details with you to obtain your desired results.
We tailor the treatment to your needs, and the cost will vary. On average, a single treatment ranges from $150 to $300, depending on treatment details. Our team can create a custom package exclusive to your needs and a more precise cost for the treatment. A consultation with our staff will provide a more accurate treatment cost.
How Long Does a DiamondGlow Facial Last?
The results of your treatment should last for a few weeks.
Some patients notice a drastic improvement in the skin after just one session, while others may need a few more to see enhanced clarity and luminosity. With each treatment, your results will continue to improve.
DiamondGlow Before and Afters
The DiamondGlow Facial produces effective, dramatic results, as evident in these before and after images. However, we recommend several treatments to obtain the best results possible.
What should you do after a DiamondGlow Facial?
The treatment is non-invasive and downtime-free so that you can resume your normal daily activities following the DiamondGlow Facial. Your provider may recommend avoiding certain ingredients and actives, like harsh abrasives and exfoliators, for the first few days after treatment. In addition, of course, adequate sun protection and hydration are essential.
What kinds of DiamondGlow facials can you choose?
Depending on your skin's needs, there are various facials and serums to choose from. The basics of the DiamondGlow are the same, but the serum infusions allow you to select from brightening, anti-aging, blemishes, dryness, fine lines, wrinkles, and sagging skin. Your provider will choose the infusion that best suits your needs.
Are there any side effects or risks?
The typical side effects (although not everyone experiences them) include a scratchy or stinging sensation during the treatment and temporary tightness, redness, or slight swelling after the treatment. Rare serious side effects may also include severe skin irritation and allergic reactions.
What is the best treatment to pair with DiamondGlow?
The DiamondGlow pairs well with other popular anti-aging and skin treatments. To determine which ones will best benefit your skin, talk with your provider about creating a customized treatment plan.
How soon can I see my results?
In a clinical study, patients reported positive results immediately and days following their treatments. In addition, 95% of patients also said that the treatment was enjoyable and that the skin felt plumper.
72 hours after treatment, continued improvement was seen in fine lines, overall dryness, radiance, and roughness.

Download our exclusive Charette Cosmetics Services & Pricing Guide and learn more about our service menu and treatment costs.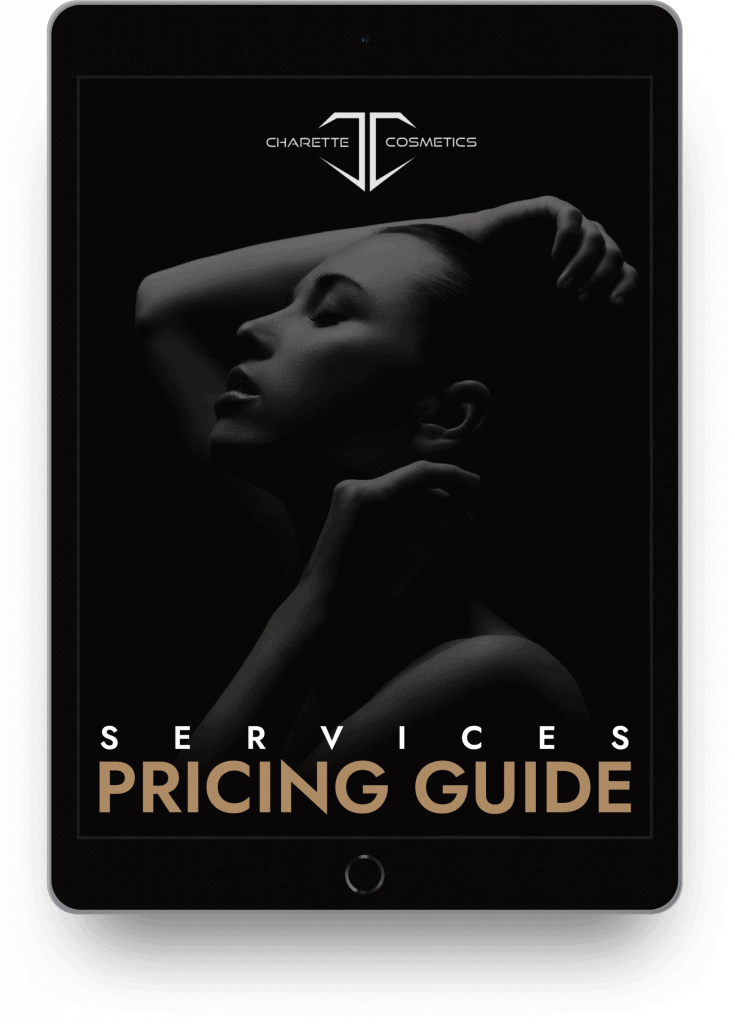 GET STARTED WITH
CHARETTE COSMETICS
If you're ready to rejuvenate your skin, now is the time to book a consultation with Charette Cosmetics. A one-on-one consultation with our experienced aestheticians will determine the best treatment plan for you. We can also customize a package specific to your needs so that you can obtain the best results possible.
Fill out the form to schedule a consultation or click the button below to book your DiamondGlow Facial appointment today!
We are here to help, feel free to contact us!