Two procedures that are on everyone's radar these days are microneedling and radiofrequency. Alone, these treatments encourage new collagen and elastin, improving skin tone, texture, and firmness. But when combined in a single treatment (known as RF microneedling), the results are even better. This brings up Morpheus8.
Of all the RF microneedling treatments, Morpheus8 is the most effective one. Some even call it the next best thing to a facelift, especially if you're not ready for one.

WHAT IS RF MICRONEEDLING?
RF microneedling uses a device to create controlled micro-injuries within the skin. The micro-injuries produce new collagen and improve texture and tone.
The combination of microneedling with radiofrequency allows energy to be delivered deep to the dermis at the optimal temperature for collagen stimulation. In addition, a more intense dose of radiofrequency energy allows for a more dramatic result.
Unlike a laser, which emits a single wavelength of energy absorbed by the skin, RF microneedling uses needles plus energy to mechanically injure the skin while heating it to create a wound-healing response.
All RF microneedling devices (no matter how deep or superficial) work the same: they utilize needles to pierce the skin while simultaneously delivering radiofrequency energy safely. Together, this combination causes an injury in the skin, which initiates the body's natural healing responses. As the body begins to heal from the injury, the skin in the treated area becomes thicker, firmer, and more youthful-looking.
Morpheus8 is a safe and effective minimally-invasive RF fractional device that works on multiple areas of the body. It uses a combination of radiofrequency and microneedling to reduce fat, stimulate collagen, and tighten the skin. The non-surgical tightening solution is FDA cleared to deliver energy at its treatment depth, allowing it to treat deeper than other procedures.
This bipolar fractional tissue treatment stimulates collagen production in the dermis while also treating fat (in certain areas) by emitting heat to remodel collagen on the face and body. As new collagen forms and the skin contracts, it becomes tighter and more youthful-looking.
The needles on the Morpheus8 device can go up to 8 millimeters deep within the skin for greater penetration. But not all areas need this exact depth (the body can handle more than the face), which is why the needles are of varying depths. The deeper reach of the needles coupled with radiofrequency also allows for fat reduction using Morpheus8 on areas like the stomach. In addition, the Morpheus8 dual handpieces allow for treating smaller and larger areas. There are also four fractional tips with different microneedle configurations: Prime with 12 pins; Resurfacing with 24 pins; Morpheus8 with 24 pins; and Body with 40 pins. Your practitioner will select the appropriate tip depending on the treatment area.
The nice thing about the Morpheus8 treatment is that it features a burst mode of RF energy to automatically deliver the energy at different depths during a single cycle. This allows the treatment to address all three skin levels in millisecond intervals for a shorter treatment time and better uniformity. It also helps decrease the potential for skin injuries and enables full-body fractional procedures to be customized.
Because of the procedure's depth, it can also target fat cells, and it is a less invasive option than surgery like liposuction. In addition, its predictable energy levels allow for good, consistent results.
Your provider can dial up or down the Morpheus8 device, so there's no need to worry about the heat causing burns or pigment (however, more passes may be necessary). In addition, controlling the depths of the needles and reaching the deeper levels of skin allows improvement in areas that were not previously able to be treated. That's why Morpheus8 has a variety of uses on the body.
It's important to know that the results from Morpheu8 are not instant and take time to show. So while you may notice an initial glow after the treatment, it can take at least three months to see the total result.
WHAT ARE THE TREATMENT AREAS?
We can treat multiple areas of the face and body with Morpheus8, including:
The lower face
Jowls
Neck
Chest
Arms
Legs
Abdomen
Buttocks
Vagina
The main benefit of Morpheus8 is its skin tightening and firming effect. It also can get rid of fatty pockets on the lower face and throughout the body. The treatment is known to:
Increase new collagen production in the skin for tighter, more supple skin.
Smooth out fine lines and wrinkles.
Firm and lift the skin, especially in the chin, jowl area, and neck.
Reduce acne scars
Improve the appearance of stretch marks
Morpheus8 is an excellent treatment if you are looking to address:
Lax skin
Fine lines and wrinkles
Acne scars
Stretch marks
Enlarged pores
Hyperpigmentation
Excessive sweating
Vaginal restoration WHO IS THE IDEAL CANDIDATE?
Morpheus8 works for many patients because of the reduced risk of discoloration and scarring.
It's safe for even darker skin types, including Fitzpatrick skin type VI, with little to no chance of post-inflammatory hyperpigmentation. Since just the needle tips emit radiofrequency energy, nearly every skin type and tone are compatible with Morpheus8 because the top layer of skin is not heated up.
While the procedure is safer for darker skin, it's always best to schedule a complete consultation first to ensure Morpehus8 is suitable for your specific concerns.
WHAT IS THE COST OF MORPHEUS8?
A Morpheus8 treatment varies in cost from provider to provider, and those in large cities often charge more.
In addition, the treatment area and the number of sessions needed to obtain your desired results will also influence the overall cost.
To determine the cost of your Morpheus8 treatment, call our office to schedule a consultation where we will put a custom program together to correct your current skin concerns.
What does the treatment feel like?
Numbing cream will be applied to your skin before the 30- to 45-minute treatment to make the procedure comfortable. Since Morpheus8 can be uncomfortable, we always suggest using topical numbing cream to make it tolerable. Pro-Nox gas can also be used as well as pre-treatment pain medication. If you are well numbed, you shouldn't feel anything at all.
How many treatments will I need?
Each patient is different; of course, depending on the area you are treating will determine how many treatments you need. However, most patients require about three treatments spaced six weeks apart.
What will my skin look like after Morpheus8?
Directly after the treatment, the skin will be red with tiny red marks. Then, for the next few days, the skin will have pinpoint bleeding spots, which typically resolve independently. At most, the skin will look like it has a bad sunburn.
How should I take care of my skin after Morpheus8?
Aftercare is of the utmost importance. Wash only with a gentle cleanser and avoid all exfoliators until you're given the green light to use them again. You'll also want to use an essential moisturizer or a healing ointment for about one week. Daily use of a broad-spectrum sunscreen is vital to protect your skin from the sun. You'll also want to avoid wearing makeup for the first few days.
How long until I see results?
Morpheus8 results are not immediate, so you'll need to be patient. The initial signs of collagen remodeling form a few weeks after the treatment. You may see a tightening effect and less fat. But it takes up to three months to see the full results.

Download our exclusive Charette Cosmetics Services & Pricing Guide and learn more about our service menu and treatment costs.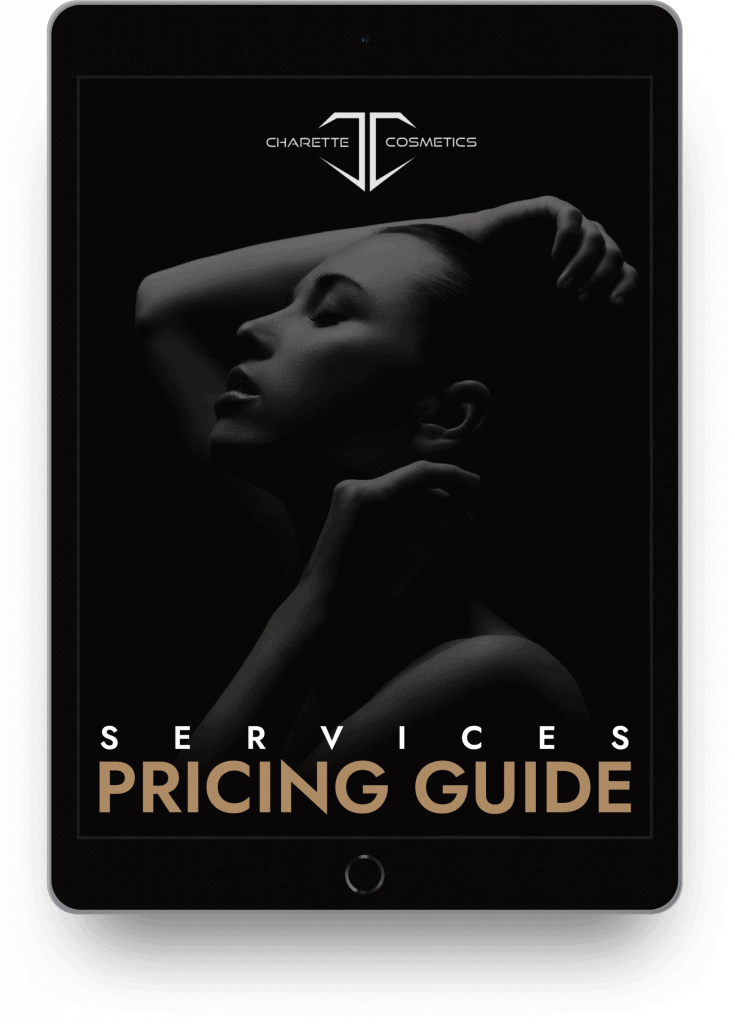 GET STARTED WITH
CHARETTE COSMETICS
If you're ready to rejuvenate your skin and make it tighter and more youthful, now is the time to book a consultation with Charette Cosmetics. A one-on-one consultation with our experienced aestheticians will determine the best Morpheus8 treatment for you. We can also customize a package specific to your skincare needs so that you can obtain the best results possible.
Fill out the form to schedule a consultation or click the button below to book your appointment today!
We are here to help, feel free to contact us!