Specialized treatments that fix and improve the skin are a dime a dozen, but few exist for oily skin. 
One of the best treatments for oily skin is a laser carbon peel. Celebrities love the facial, too, for its rejuvenating and brightening effects.

What is a
Carbon Laser Facial?
A carbon laser facial is a quick, easy, and painless two-part treatment that helps improve the skin in multiple ways. While it works exceptionally well for controlling oily skin, the facial does so much more.
The facial also treats breakouts, discoloration, sun damage, and brightens the skin.
What Is A Carbon Laser Facial Like?
Carbon laser facials are often done in two parts. First, a layer of carbon lotion is applied to the skin, which will remove dirt, oil, and dead skin from the pores. Then, once the lotion dries, a laser penetrates the deeper layers of skin, and there is controlled damage that stimulates the skin's natural wound healing process.
The heat emitted from the laser also causes the pores to contract, making them look smaller and controlling sebum production. It also prevents acne by decreasing inflammation and the bacteria within the pores. In addition, this process stimulates collagen and elastin production and creates refreshed-looking skin.
Then, the carbon lotion is removed with a second laser, usually a Q-switched laser.
The laser immediately breaks down the carbon. At the same time, any dead skin cells and oil on the skin's surface stick to the carbon and are then removed. There's also an exfoliating benefit that helps to lend a brightening and smoothing effect to the skin.
What Are The Benefits Of A Carbon Laser Facial?
A carbon laser facial improves oily skin's look, feel, and health. It also tightens the pores and creates an immediate glow and brightness to the skin.
The treatment also improves:
Breakouts and acne
Acne scars
Pigmentation
Uneven skin tone and texture
Dull-looking skin
Enlarged pores
Fine lines and wrinkles
Because a carbon laser facial deeply exfoliates the skin, it removes impurities and helps create glowy skin. It also stimulates collagen and elastin production for more youthful-looking skin.
How Much Does A Carbon Laser Facial Cost?
Carbon laser facials vary in cost from provider to provider, and those in large cities often charge more.
The treatment area and the number of treatments necessary also influence the overall cost.
To determine the cost of your carbon laser facial, call our office to schedule a consultation where we will put a custom program together to correct your current skin concerns.
How long is the recovery time?
There's virtually no recovery with a carbon laser facial because the laser does not. However, it's normal to experience some minor flaking, redness, and dryness for the first few days after the facial.
How long does the facial take?
A carbon laser facial takes about half an hour to perform. You'll immediately notice brighter, smoother skin that's less oily. It should also feel softer.
Is there anything I should do before the facial to prep my skin?
You should stop using retinol and retinoids, and any other exfoliating agents for one week before the treatment. Also, avoid exfoliating the skin and using any harsh or abrasive products or ingredients to protect the skin barrier.
How should I take care of my skin afterward?
It's essential to take good care of your skin after a carbon laser peel with regular moisturizer and a gentle cleanser. In addition, wearing sunscreen every day is crucial in protecting your skin.
Oily and acne-prone skin types need to stick with gentle acne-reducing ingredients to mitigate breakouts without compromising the skin or making it dry and flaky.
You'll also want to avoid using retinol and exfoliating acids for the first week since the skin is in a fragile state.
What is the difference between a carbon laser facial and a fractional laser?
A carbon laser facial tackles issues like oily skin, enlarged pores, and minor signs of aging. However, it's not an ablative procedure, meaning it does not remove the outer layer of skin. On the other hand, a fractional laser is ablative and physically removes the skin and tackles sun damage and more moderate signs of aging.
Both treatments create new collagen and elastin within the skin to create healthier, younger, plumper skin. Carbon laser facials also have less downtime than fractional lasers.
How long will the results last?
The results of a carbon laser facial are dramatic but not long-lasting. However, the skin improvement benefits will last for a few months. Then, if the treatment needs to be repeated, it can be done every few weeks as needed.
How many treatments are required for the best results?
However, some patients notice results after one treatment, but four to six facials in total may be recommended for optimal results.
What does a carbon laser facial feel like?
A carbon laser facial is a painless treatment with no downtime or recovery time. However, some patients describe the facial as feeling somewhat similar to a finger prick.
How many treatments will I need?
Most patients need just one carbon laser facial to give their skin a refresh. But, if you have moderate to severe acne that's typically unresponsive to treatments, or severe acne scarring, you will probably need a few treatments to see the full results. However, wrinkles and lines become less apparent after one to two treatments.

Download our exclusive Charette Cosmetics Services & Pricing Guide and learn more about our service menu and treatment costs.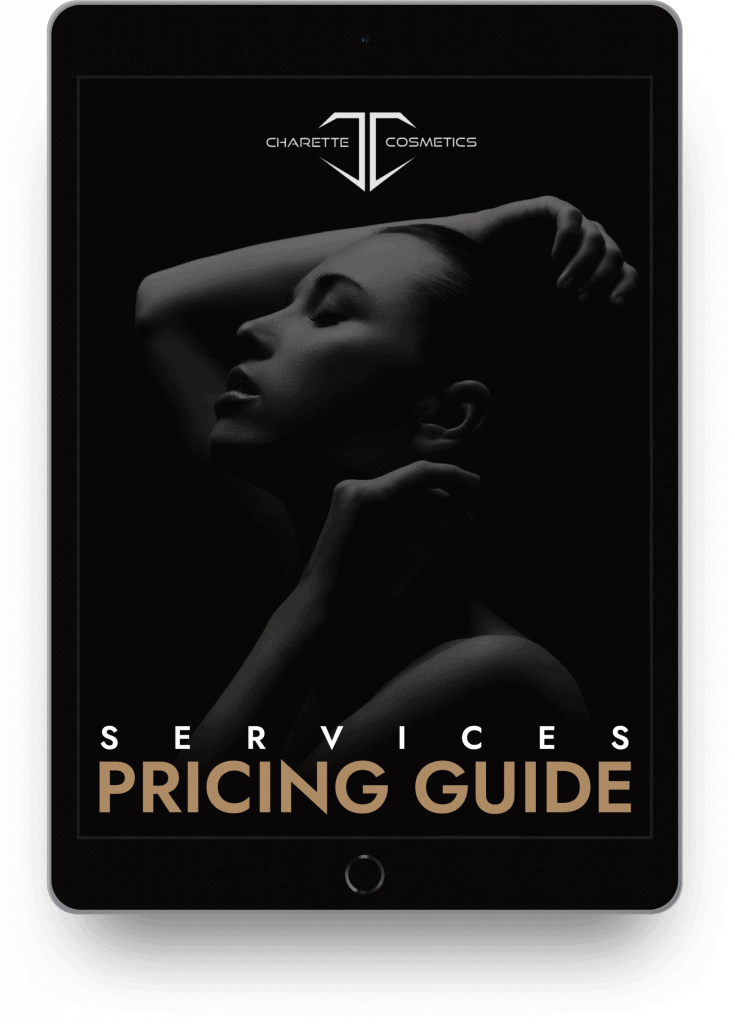 GET STARTED WITH
CHARETTE COSMETICS
If you're ready to get your glow on and get the best skin of your life, now is the time to book a consultation with Charette Cosmetics.  A one-on-one consultation with our experienced aestheticians will give you more insight into the carbon laser facial. We can also customize a package specific to your skincare needs so that you can obtain the best results possible.
Fill out the form to schedule a consultation or click the button below to book your carbon laser facial appointment today!
We are here to help, feel free to contact us!