Injectable fillers, also known as dermal fillers, are among the most popular age-reversing and volume-enhancing treatments. But, if you think about it, it's pretty phenomenal that a few injections of these dermal fillers can plump up limp lips, reinstate the cheekbones, and, otherwise, turn back the hands of time.
Hyaluronic acid-based fillers work like magic.
Appropriately injecting them allows deflated facial features to improve. If fine lines, wrinkles, and a loss of volume bother you, dermal fillers and injectables provide the solution for quick correction.
Dermal fillers are any FDA-approved injectable products with a rejuvenating, contouring, and anti-aging effect. The hyaluronic acid varieties, which attract water, are immediate. Others, like biostimulatory collagen stimulators, work over time.
Hyaluronic acid fillers are the most popular fillers used. They are more temporary but have minimal side effects yet noticeable results. They also fill in lines and wrinkles and add volume to aging facial features.
The primary benefit of using dermal fillers is restoring volume and fullness in the face. With age, the deep fat layers of the face begin to diminish, which causes the fact to look sunken, hollow, or flat. But fillers restore a natural fullness to the face.
Dermal fillers, which are anti-aging, hydrating, and contouring, can do numerous things, including:
Plump thin lips
Soften lines and wrinkles
Add contours and definition to the face
Erase shallow hollows
Remove darkness under the eyes
There are numerous different dermal fillers available, and each one comes with its own set of nuances.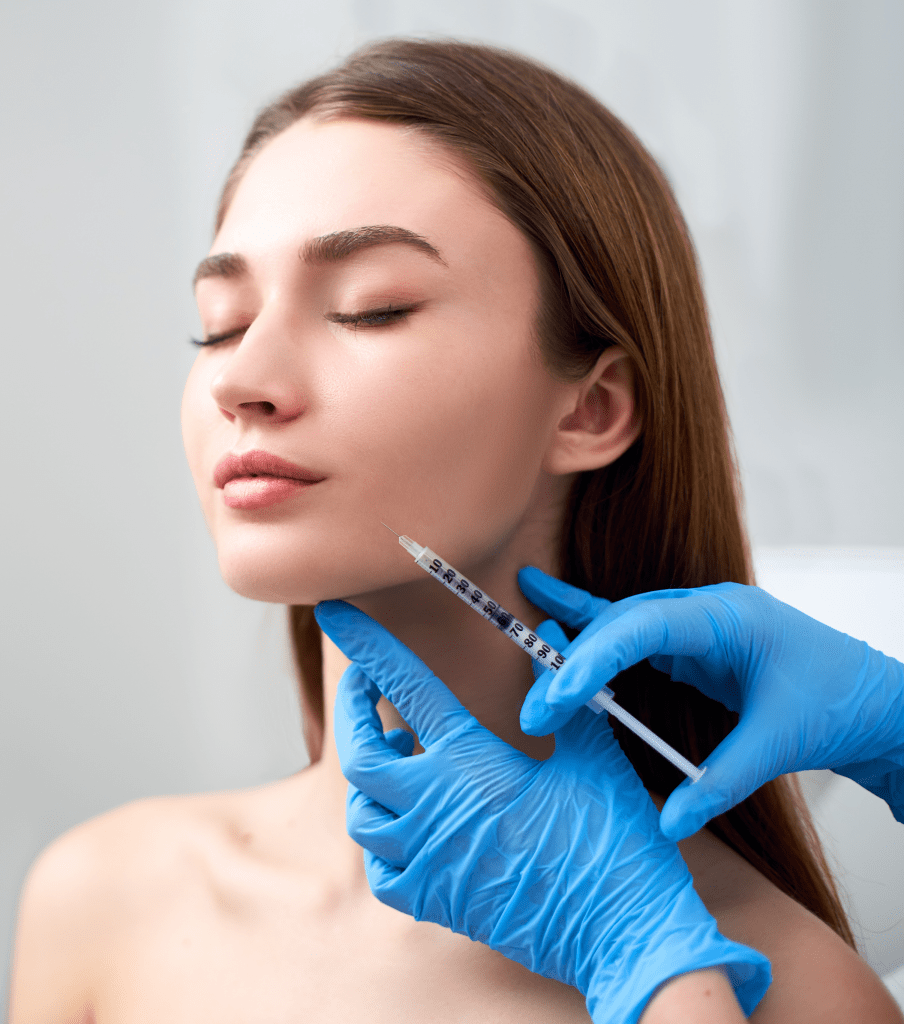 WHAT IS THE DIFFERENCE BETWEEN FILLER AND BOTOX?
Although many people think Botox and fillers are the same, they are very different and work in other areas. However, the two are often used in tandem to achieve the best results.
Botox works to smooth fine lines and wrinkles by blocking the muscle contractions that cause wrinkles and lines to form. Botox also takes a few days to start working and lasts about three months. However, it also doesn't add volume or re-define facial contours, so Botox can not be used for the same purposes as filler.
Botox is also a naturally-occurring toxin that softens the look of lines and wrinkles between the eyebrows, on the forehead and crow's feet, and other movement-related wrinkles that result from frowning.
On the other hand, dermal fillers work differently. Instead of temporarily paralyzing the muscle as Botox does, dermal fillers add volume to the area and improve the contours of the face while smoothing fine lines and wrinkles. They also last longer than Botox–from six to 12 months, depending on the injected filler and treated area.
WHAT ARE THE DIFFERENT TYPES OF DERMAL FILLER?
There are various types of dermal fillers, which fall into the following categories:
Hyaluronic acid
(Juvederm, Restylane)
The most popular filler, hyaluronic acid contains a synthetic gel version of the same hyaluronic acid naturally found in the body. This filler works nicely to improve lines, wrinkles, and folds, adding volume to the temples, cheeks, and lips and enhancing the nose and jawline.
Calcium hydroxylapatite
(Radiesse)
This filler smoothes out more severe facial folds and creases like those around the mouth. It also adds fullness to the face and enhances the appearance of the jawline by stimulating collagen production. In addition, the results are longer-lasting, and there's no need to worry about migration, which can occur with hyaluronic acid fillers.
Polylactic acid
(Sculptra)
Like Radiesse, Sculptra creates collagen over time. It helps fill lines and wrinkles, deep folds and creases, and hollow areas. While it may provide initial volume, the results appear gradually over a few months at the injection site. Also, a few sessions are often needed to achieve full results.
Polymethyl-methacrylate microspheres
(Bellafill)
Commonly referred to as PMMA, this filler is semi-permanent and treats more severe facial folds, creases, lines, and wrinkles. It also works well for correcting and smoothing out pitted scars. However, PMMA fillers also take time to see the results (usually upwards of three months) since it takes time for the product to create the volume.
Each dermal filler family differs in its molecular and chemical makeup, the treatment areas of use, its onset of action, and the longevity of the results. Therefore, a mix-and-match approach of various dermal fillers may be needed to achieve the full results.
WHAT ARE THE TARGET AREAS? There are several areas where dermal fillers work. Some of the most commonly used areas that respond well to treatment include:
The lips
Under the eyes
The bridge of the nose
The cheeks
The temples
The jawline
The mid-face
Folds and lines around the mouth
The chin
HOW MUCH DOES DERMAL FILLER COST?
Dermal filler treatments vary in cost from provider to provider, and those in large cities often charge more.
The filler used, the injection areas, and the amount of filler injected influence the overall cost. Most of our filler treatments start around $800 and up.
To determine the cost of your filler treatment, call our office to schedule a consultation where we will put a custom program together to correct your current skin concerns.
Are there any risks or side effects?
For the most part, dermal fillers are safe, effective, and offer little risk. But all aesthetic procedures can have potential complications, so it's crucial to be aware of them, although severe complications are uncommon. In addition, the type of filler used and the area where it is injected can pose certain risks.
Hyaluronic acid fillers are reversible if an adverse effect arises or you don't like the results. Hyaluronidase acts as an antidote to hyaluronic acid fillers and dissolves them immediately.
How long does the treatment last?
Fillers are fast and can be done in a few minutes to 30 minutes, depending on the areas of treatment and the fillers used.
When will I see the results?
Most fillers show immediate effects, although you may be swollen or bruised at first. This will subside in a few days, and the results you see will be what remains.
The results last about six months or longer, depending on the filler used and the areas injected.
Is there any downtime or recommendations for aftercare?
There's no actual downtime or recovery with fillers. After your injections, you should ice the area and take arnica pills to minimize swelling and bruising. After treatment, you can resume your normal activities, but avoid lifting anything heavy or partaking in any intense physical activity for the first 48 hours.
It's also normal for the treated areas to be slightly swollen, bruised, red, or even look overfilled at first. There may also be tenderness or hard lumps at the injection site, which is expected. But, again, regular massage and icing the area will help.
How often will I need to get filler?
Most filler lasts between six and twelve months, depending on the filler used and the treatment areas.
Download our exclusive Charette Cosmetics Services & Pricing Guide and learn more about our service menu and treatment costs.
GET STARTED WITH
CHARETTE COSMETICS
If you're ready to rejuvenate your skin and features, now is the time to book a consultation with Charette Cosmetics. A one-on-one consultation with our experienced aestheticians will determine the best filler treatment for you. We can also customize a package specific to your skincare needs so that you can obtain the best results possible.
Fill out the form to schedule a consultation or click the button below to book your filler appointment today!
We are here to help, feel free to contact us!