Light-based treatment has long been considered the go-to solution for reducing hyperpigmentation and evening-out discoloration in the skin. While some light-based treatments are more compatible with certain skin tones and types, one that tends to work across the board is broadband light (BBL), commonly known as a photo facial.
Although there are numerous treatments to lighten up unwanted discoloration, the BBL Hero device constantly stands apart due to its power and impeccable results.

This Sciton-developed device is considered the gold standard of gentle skin resurfacing sans significant downtime.
Although it technically falls under the umbrella IPL family, the BBL Hero creates smoother, softer, clearer, and more uniform-looking skin and is safe for most skin tones and types. However, like other aesthetic treatments, there's a lot to unpack about BBL therapy, including its effectiveness, how it works, and what to expect from treatment.

BBL Hero is a photo facial that improves pigment, redness, and the overall tone and texture of the skin anywhere on the body. It also limits the look of aging skin, sun damage, and breakouts. Unlike other light-based therapies, BBL Hero produces the most effective results with minimal downtime.
BBL Hero, which stands for Broadband Light High Energy Rapid Output, uses pulses of light energy to heat the skin's surface gently. This technology is faster and stronger than the standard Intense Pulsed Light (IPL) photo facial. The first generation of BBL treatments used a special IPL light that rejuvenated the skin at a cellular level. It worked wonders at treating brown spots, redness, skin laxity, and even hair reduction. But it's since been upgraded, and the new and improved BBL Hero still does all of that at a faster rate, with more energy and a shortened pulse width. Plus, it cools the skin at twice the speed to keep irritation at bay.
The BBL HERO system is four times faster and three times more powerful and cools the skin more effectively than traditional BBL lasers and photo facials. In addition, because the treatment works fast, it can comfortably treat a larger surface of the skin in a shorter period. The BBL Hero also has cooling features to keep the skin comfortable throughout the session.
BBL HERO's handheld applicators gently move across targeted body regions to deliver non-ablative broad-spectrum light safely.
It also can treat a wide range of skin conditions using a single handheld handpiece. By swapping out any of the nine wavelength filters and spot-size adaptors (they treat smaller areas like above the lip), the BBL Hero becomes a customizable photo facial treatment to address your skin concerns effectively.
All this means better, faster results like improved skin tone and texture. The BBL Hero also eliminates age, sunspots, redness, discoloration, dullness, and unwanted hair. It even treats skin conditions such as rosacea, spider veins, and acne, minimizes sun damage, fine lines, and wrinkles, and evens the skin tone and texture. BBL Hero is compatible with the chest, back, arms, legs, and face. You can also expect to see improvements in your skin rather quickly with just a few treatments.
BBL Hero is often called the workhorse for skin correction because it delivers consistent and optimized delivery through dual flashlamps from start to finish without degrading the lamp. In addition, the BBL Hero's light can also address visible pigment up to 800 nm.
BBL Hero works super fast and with fluidity to treat the skin on the face, hands, arms, legs, back, and chest. The unique technology allows multiple passes of each treatment area and changing filters to address various skin concerns in a single visit.
Compared to other types of laser and light devices, the BBL Hero is tolerable and doesn't typically require numbing cream (it can be applied if you feel it will make the treatment more comfortable and bearable). During the treatment, the handpiece gently glides on top of the treatment area, and with each pulse emitted, there's a flash of warmth and a burst of high-energy light that you'll feel, which heats the uppermost layers of skin. The light detects melanin in the skin, which eventually lightens it. The energy also activates the body's cellular regeneration and collagen production capabilities. But before you see improvement in the skin tone and texture, the treated area starts to darken, signaling it's working, and then scab (they'll resemble a coffee grind of sorts) and flake off. In their place, fresh new skin cells emerge.
The BBL Hero handheld applicator features a sapphire on the end of it to keep the skin cool and comfortable. After the treatment, the skin may feel warm to the touch for up to one hour, which is expected. The advanced cooling technology helps ensure the treatments are safe, fast, effective, and comfortable.
Unlike other photo facial devices, the BBL Hero features a proprietary, multi-pass approach to treating the skin. A single pass can improve the overall appearance of the skin, or multiple passes with various wavelengths of light can correct pigmented lesions, skin flushing, acne, and even loose skin.
One of the significant benefits of the BBL Hero photo facial is that it stimulates the body's natural healing process and collagen and elastin production for glowing skin that improves with time. However, you must undergo several treatments to reap the full benefits. While each patient's needs are different, on average, two to five treatments are recommended depending on the skin condition. The treatments are also spaced six to 12 weeks apart. As a result, you will see improvement in your skin in the coming weeks, which will improve with time. Our team will discuss treatment costs and the number of treatments needed during your consultation.
The BBL Hero is clinically proven to "turn back the clock" by addressing visible signs of aging skin faster than other photo facial treatments and with better results. The skin will emerge clearer and smoother, and there will be a visible reduction of pigment and vascularity.
AM I A GOOD CANDIDATE FOR A BBL HERO TREATMENT?
The BBL HERO treatment is designed to work on most skin types and tones, so even if you have darker skin, you will see results from this treatment.
Like other photo facial treatments, the BBL Hero works best for eliminating signs of:
Sun damage
Hyperpigmentation
Acne scarring
Wrinkles and fine lines
Dull or uneven skin tone
Rough or dry skin texture
Redness
Rosacea
Sun damage
Hyperpigmentation
Acne scarring
Wrinkles and fine lines
Dull or uneven skin tone
Rough or dry skin texture
Redness
Rosacea
The BBL Hero includes a wavelength that makes it compatible for use on darker skin tones and light and medium skin tones.
How much does BBL Hero cost?
BBL Hero photo facials vary in cost from provider to provider, and those in large cities often charge more.
To determine the cost of your BBL Hero treatment, call our office to schedule a consultation where we will put a custom program together to correct your current concerns and create a customized skin plan.
How is BBL Hero different from other photo facials?
Not all photo facials are the same. BBL Hero uses BroadBand Light instead of Intense Pulsed Light (IPL). In addition, the BBL Hero is the only medical device with a proven study from a major medical university to demonstrate long-term changes in the appearance and genetic expression of the skin.
The BBL Hero treats a wide variety of skin conditions, including:
Sunspots and sun damage
Age spots
Acne and acne scars
Skin laxity and wrinkles
Redness (Rosacea)
Pigmented spots
Unwanted hair
Freckles
Facial veins
Textural irregularities
It can treat a variety of skin tones and types, including skin types 1-5 (on the Fitzpatrick scale).
Is There Any Downtime or Recovery With BBL Hero?
Like all photo facials, the BBL Hero is a downtime-free procedure. However, it's normal for the treated skin to look and feel as if it is sunburned following the treatment. Applying cool compresses to the skin and taking over-the-counter anti-inflammatory medication can help with any symptoms. Using BBL Hero to treat blood vessels may cause bruising, so be aware of that. Of course, you'll need to be extra diligent when applying sunscreen daily, especially since the treated areas will be more sensitive to the sun for a few weeks after the treatment. You can resume and enjoy your regular social activities directly after the treatment.

Download our exclusive Charette Cosmetics Services & Pricing Guide and learn more about our service menu and treatment costs.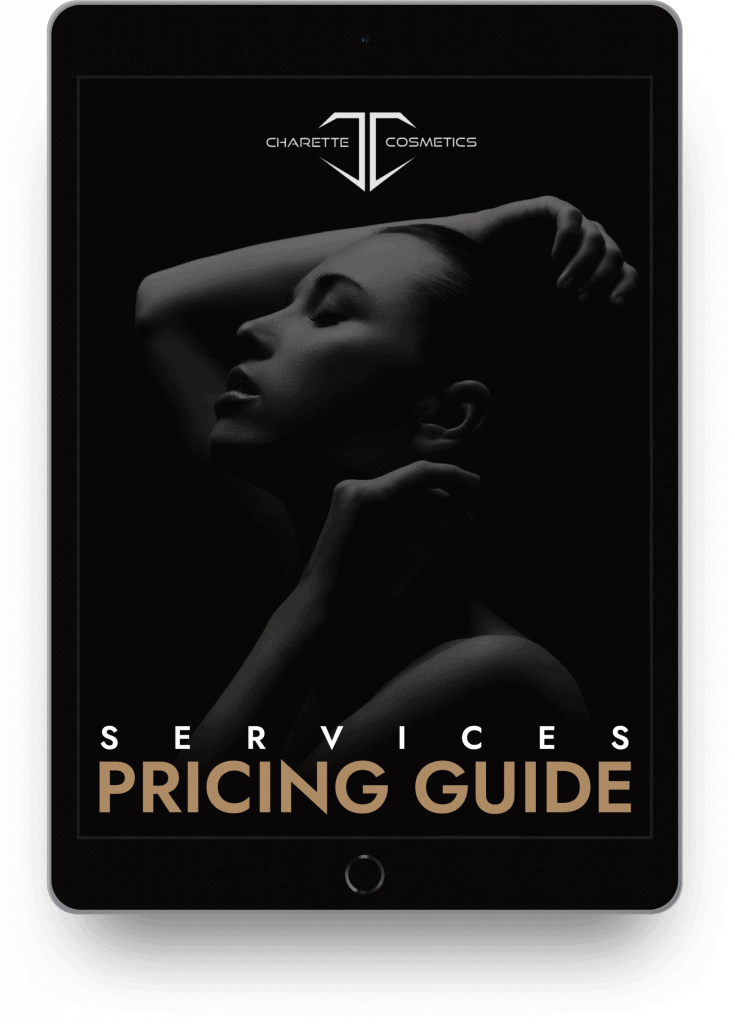 GET STARTED WITH
CHARETTE COSMETICS
If you're ready to get better-looking skin, now is the time to book a consultation with Charette Cosmetics. A one-on-one consultation with our experienced aestheticians will determine how to achieve the best BBL Hero photo facial results for you. We can also customize a package specific to your skincare needs so that you can obtain the best results possible.
Click the button below to schedule a consultation or book your BBL Hero appointment today!
We are here to help, feel free to contact us!